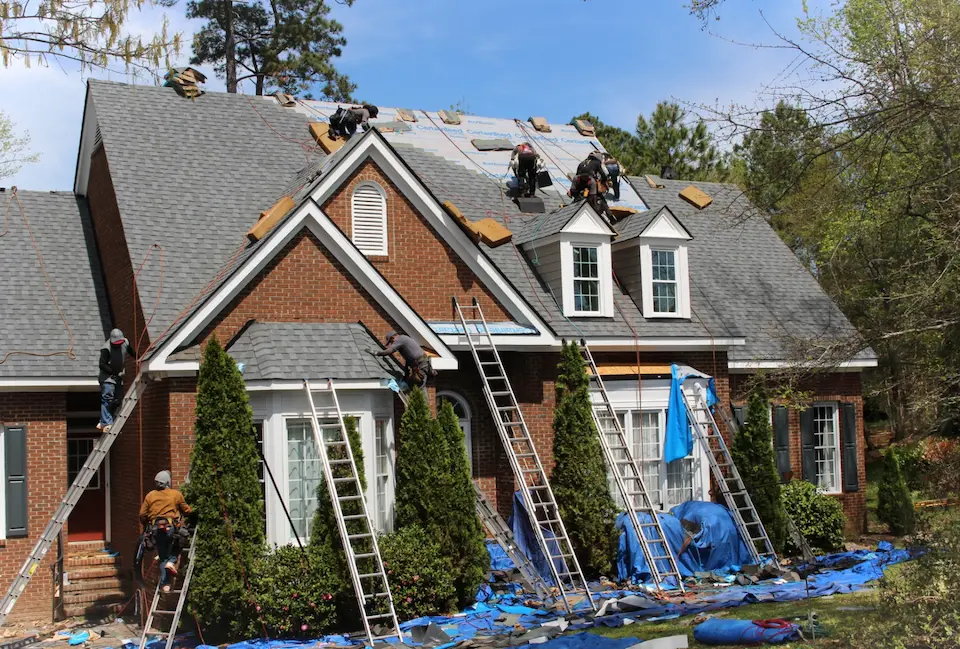 Your homeowner's insurance policy could cover roof repairs or even a full roof replacement if your roof is damaged by harsh weather events like heavy rain, winds, hail, snow, and ice. However, the process of getting your insurance claim approved can be difficult and exhausting. If you do not follow the precise steps to filing your roof insurance claim, or if you cannot prove to your insurance adjuster that the damage to your roof was the result of damage beyond your control, it's possible your claim will be denied.
Our roof replacement specialists at Artisan Quality Roofing understand how difficult it can be to pay for your roof out of pocket, and the challenges of getting a legitimate claim for a damaged roof approved by an insurance carrier. Because of the replacement coverage difficulties faced by homeowners, we want to help your roof repair and replacement process run as smoothly as possible by offering our advice on how to get insurance to pay for your roof replacement.
What Roof Damage Does Homeowner's Insurance Cover?
It's entirely possible to get your homeowner's insurance carrier to cover the repair costs of a damaged roof. It's also possible to have them cover the cost of having your roof replaced. However, depending on your insurance coverage, what might be considered coverable damage depends on your individual policy and the insurance adjuster's assessment of your claim.
Most homeowners insurance policies will provide coverage for the following type of events and damage:
The weight of heavy ice, snow, or sleet
Rain and water leaks and damage
Fires
Lightning
Falling objects
Vandalism
Unfortunately, repair coverage very rarely will pay for your roof if the damage caused is the result of long-term wear and tear, deterioration, mildew, debris accumulation, clogged gutters, or further damage caused by the age of the roof.
Steps to Get Homeowners Insurance to Pay for a New Roof
When you experience storm damage to your roof, you want your roof replacement claim process to be quickly resolved so that you and your family can safely and securely live in your home. Roof repairs and replacements can be costly, and most families cannot afford to pay for a new roof replacement out of their own pockets. The unfortunate reality is that when it comes to roof replacements, an insurance company will make you jump through many hoops and present a number of obstacles that delay your needed repairs or even deny your claim altogether.
How can you avoid having an insurance agent deny your roof claim? If you follow the steps outlined here and work with a reputable roofing company with experience in the homeowner's policy claim process, you could get your home insurance to provide you with a free roof.
Step #1: Understand and Document the Damage
After a bad storm, it's vital to assess your roof for storm damage. Looking for signs of missing shingles, blown-off shingle granules, and fallen trees, branches, or other debris should be your first step in understanding what kind of damage your roof is facing.
Document any sign of damage by taking pictures that you will send to your insurance adjuster. The number one requirement to getting your roof replacement approved by an insurance agency is your ability to document the proof of damage caused by a storm, so understanding and collecting evidence of the damage is essential to get quick repairs covered by your homeowner's insurance.
Step #2: Understand Your Roofing Insurance Coverage
Look over and review your home insurance policy coverage. If you have questions, it's always best to call an insurance agent to review your policy and get those questions answered about the process for filing a claim. Doing this quickly after your roof is damaged is essential to getting the process moving because some policies have stipulations and restrictions on how long after roof damage you are able to file a claim for repairs and replacement.
Step #3: Get a Roof Inspection and Beware Storm Chasers
Find a trustworthy, reputable roofing contractor to prepare an inspection report of your roof damage. Some insurance companies will not approve an insurance claim for a roof replacement until they receive an inspection report completed by a local roofing inspection company.
Oftentimes, after a storm with a high probability of wind damage or other damage, scammers will knock on neighborhood doors offering free roof inspections. These out-of-town roofers, known as "storm chasers," will enter local neighborhoods and undercut the local roofing companies you might normally work with.
These storm chasers are scam artists who come into town looking for vulnerable homeowners who will pay for quick roof repairs, prior to leaving and never being heard from again. More often than not, scammers and storm chasers will perform inadequate repairs that result in more money spent on your roof in the long run. It's important to receive multiple estimates from local roofers who provide high-quality work and not to sign any contracts with people who show up to your front door ready to accept work.
Step #4: File a Claim with Your Homeowners Insurance Company
File a claim with your homeowner's insurance company, adhering to whatever process and procedures they require and submitting any necessary documentation of proof that your roof endured weather damage. The proof will include any photos you took of damage and the date and time you noticed there was damage to your roof. Additionally, you will provide the inspection report and repair estimates completed by the reputable roofing company that you scheduled to inspect your roof.
Once your claim is submitted, your homeowner's insurance will send an insurance adjuster to your home to prepare a report of their findings. If the adjuster believes you need to provide more information to the insurance company, they will tell you. Now, you just wait to see whether your insurance claim is approved for a new roof.
Step #5: Schedule Your Roof Replacement with a Trustworthy and Experienced Roofing Contractor
Once your insurance claim is approved, you can schedule Artisan Quality Roofing to come to your home and replace your roof. Our attention to detail, integrity in our work, and positive customer reviews have allowed us to lend our services to many homeowners in Raleigh and the surrounding areas. When you schedule a service with our roof replacement contractors, you will get the highest quality, professional work from a local roofing company.
Contact Artisan Quality Roofing for Your Raleigh Area Roof Replacement
Our NC roofers understand how complicated and frustrating it can be to worry about your homeowner's policy roof coverage and how difficult the process can be to get insurance claims quickly approved.
That's why it's important to work with a company whose expertise is in roof replacements and roof repairs and who has experience working with a roofing claim agency.
Contact us today at (919) 906-3791 or fill out our contact form for a free inspection and estimate to get started.